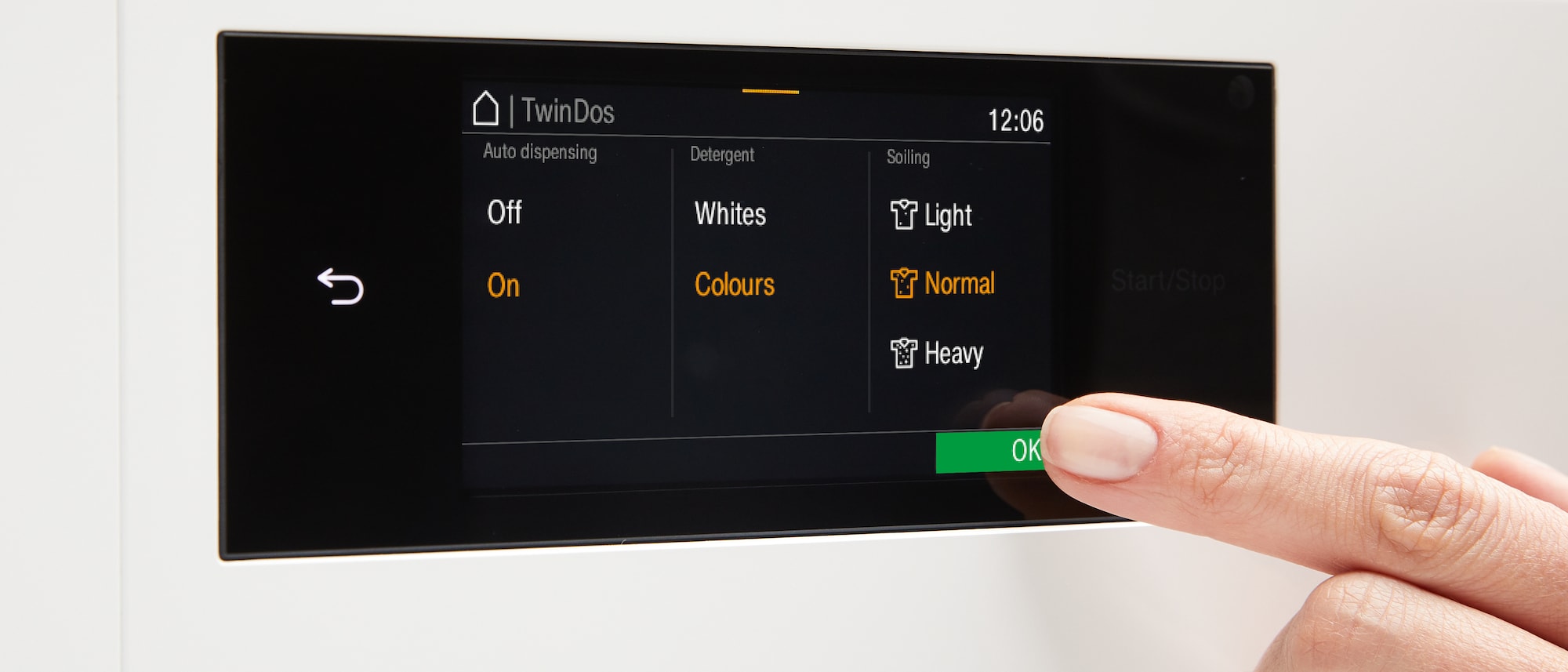 M Touch: Miele's Touch Screen Washing Machines
Discover the new Premium and Prestige W1 laundry range with M Touch control and Miele@Home connectivity. The pinnacle in ultimate laundry care, combining M Touch touchscreen control with optimum energy efficiency and convenience. The Wifi connectivity combined with our renowned PowerWash and TwinDos systems delivers perfect Miele results from the palm of your hand.
M Touch
New to premium laundry appliances, the innovative M Touch interface is smart, simple and intuitive to use. The appliance can be operated easily by pressing of swiping the touch screen display, with functions chosen at the touch of a fingertip.
SingleWash
A full wash cycle in under an hour for very small loads (1kg of washing = 3-4 shirts). Using TwinDos+SingleWash, the appliance only uses 25ml detergent (compared to 53ml for standard brands).
Miele@Mobile
ShopConn@ct: Push notification about the TwinDos fill level and simple re-ordering.
MobileControl: Start, Stop and request the status of the appliance whilst on the go.
Washing assistant: Support with programme selection for all fabric types.
Library: Stain treatment tips, wash care symbols, and operating instructions.
WCR860
Huge 9kg capacity with drum lighting.
Highly energy efficient, offering A+++ -40%.
Very best cleaning results with TwinDos using UltraPhase.
Fast full A-rated wash with PowerWash in under 1hr.
Exceptionally quiet at only 46dB (72dB spin).
WWR 860 WPS PWash 2.0 & TDos XL & WiFi
W1 Front-loading washing machine
with TwinDos, PowerWash and Miele@home for smart laundry care 
Delivery time 1-3 working days
WWV 980 WPS Passion
W1 Front-loading washing machine
The economical all-rounder that meets the highest expectations
Delivery time 1-3 working days
Delivery time 1-3 working days
Subject to technical changes; no liability accepted for the accuracy of the information given